How to Choose the Right Connector for Your Project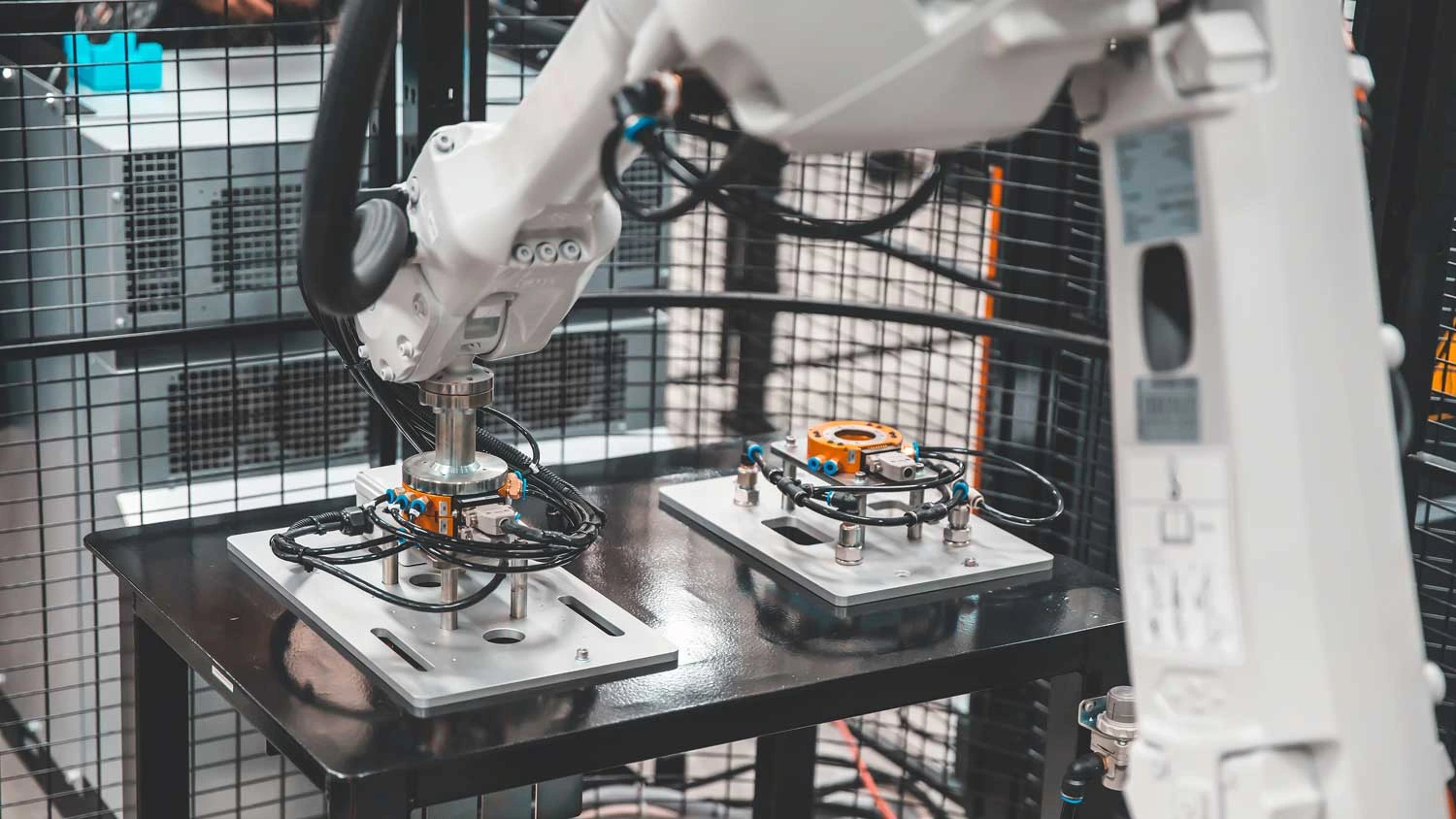 The top 5 things to consider
While small, connectors have a massive impact on PCB and enclosure designs. The right choice strikes a balance between electrical and mechanical needs for reliable performance that fits seamlessly into your end product.
Connectors are no place to cut corners, so we've put together a list of the top five technical factors you should consider when selecting the best connector type for your project.
Power demands
High-performing connectors are a compromise between space requirements and power needs. Technical requirements will dictate important decisions like material, pin count, wire gauge, contact sizes, and mounting footprint.
High-voltage needs might point to a connector with insulation or wider spacing between pins, but the footprint of your board design could be the factor that sways your decision. Here's what you'll need to consider:
You can see how these different parameters can affect model selection for a connector like the QUIK-LOQ:
# of contacts

Pin diameter (mm/in)

Max wire size

(awg)

Max current

(A)

Contact resistance (mΩ)

Working voltage

(V)

QUICK-LOQ 820B002

2

.9 / .035

22

10

6

330

QUICK-LOQ 820B009

9

.5 / .020

28

2

10

220
Operating conditions
Some connectors need to stand up to harsh outdoor environments including rain and salt spray. Indoors, connectors can also be met with challenging elements such as dust, water jets, and chemicals. Industries from manufacturing to oil and gas require connectors that can endure tough conditions. The IP rating of a connector indicates how protected it is against ingress.
How to read an IP rating
An IP rating contains two digits.
The first digit ranges from 0 to 6 and tells you how protected the connector is against solid objects. This number starts at an unprotected zero (IP0X). Ratings including IP2X will defend against objects under 12.5mm like fingers, while the heavily armored IP6X offers complete protection against micro particles such as dust.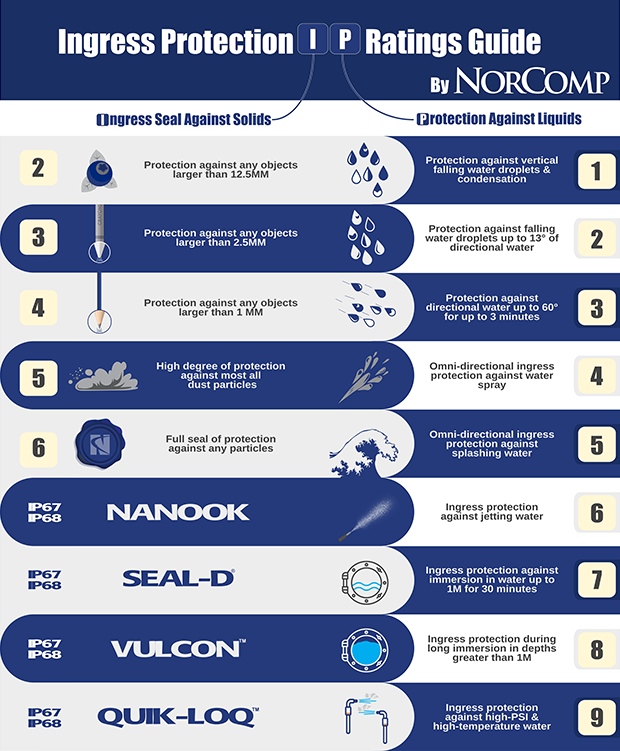 The second digit represents a connector's protection against liquids: it can be as low as zero or as high as nine. A connector rated IPX0 is not protected, while an IPX4 shields inner workings against splashing water. If you're operating at sea, for example, you will want to upgrade to waterproof IPX8 connectors—the gold star of liquid ingress protection. These highly sealed connectors can survive continuous immersion beyond 1 meter.
You can use this helpful chart to evaluate the potential needs of your industry.
Conditions your industry should consider when selecting connectors
| | | | | | | | |
| --- | --- | --- | --- | --- | --- | --- | --- |
| Application | Temperature | Shock/Vibration | Pressure | Corrosion | Explosion | Liquids | Dust |
| Medical | X | | | X | | X | |
| Automotive | X | X | | X | | X | |
| Industrial | X | X | | X | X | X | X |
| Oil & Gas | X | X | X | X | X | X | X |
| Agricultural | X | X | | X | | X | X |
| Marine/Undersea | X | X | X | X | | X | |
In some applications, you will need to upgrade to a fully ruggedized connector. These connector types are outfitted to take on high pressure, shock, and vibration—even explosion risk.
These ultra-protected connectors arm against the elements using features such as an anti-corrosion stainless steel alloy shell. Using ruggedized locking, latching, or screw retention mechanisms, you can avoid unintentional disconnects in highly turbulent or jostling conditions.
Ambient temperature
The operating environment will also dictate the temperature range your connector must withstand. A robot that performs assembly tasks on a bustling factory floor undergoes different temperature swings than a server in a cold data center.
| | |
| --- | --- |
| Connector Model | Temperature range |
| | -40° to +85°C |
| | -25° to +85°C |
| | -20 ° to + 120 ° C |
| | -40 C to +200 C |
| | -55 ° to + 125 °C |
Footprint and size constraints
Modern electronics are shrinking in size, restricting the amount of space available for bulky connectors. But electronics are also smarter than ever, meaning manufacturers need to squeeze more sensors and connections into a denser footprint. Tighter footprints increase the risk of mechanical interference and crosstalk, so available space is a prime consideration when selecting connectors.
Equipment that used to be stationary—like an MRI machine that takes up an entire room—is now on the move. This new trend towards increased portability further shrinks product designs, pointing more engineers towards miniature connector types.
Mating cycles
Some applications are mated once and more or less remain connected throughout their entire life cycle. Others are frequently connected and disconnected, like those used in bench testing and medical imaging, causing more wear and tear.
A connector's mating cycles specify the number of connects and disconnects a manufacturer expects it to survive. Some are ready to withstand 750 mating cycles, while others, like push-pull designs, can last upwards of 5,000.
Design considerations that impact a connector's rating in this area include its plating and how the contacts are formed. You can see how different D-subminiature types differ in this area:
Estimated mating cycles for D-subminiature connectors
| | | |
| --- | --- | --- |
| | Stamped & Formed Contacts | Machined Contacts |
| Gold Flash Plating* | 50 | 150 |
| 30 Micro Inch Plating | 250 | 500 |
| 50 Micro Inch Plating | 500 | 750 |
* Thickness ranging from 0.2µ" – 0.6µ" Au
From robotics to telematics, outdoor sensors to high-stakes military equipment, we have over __ connectors up to the job. Our team is ready to walk you through this selection guide and help you find the best interconnect solution for your project.
---
Go Back