Connectors for Rugged Telematics System Design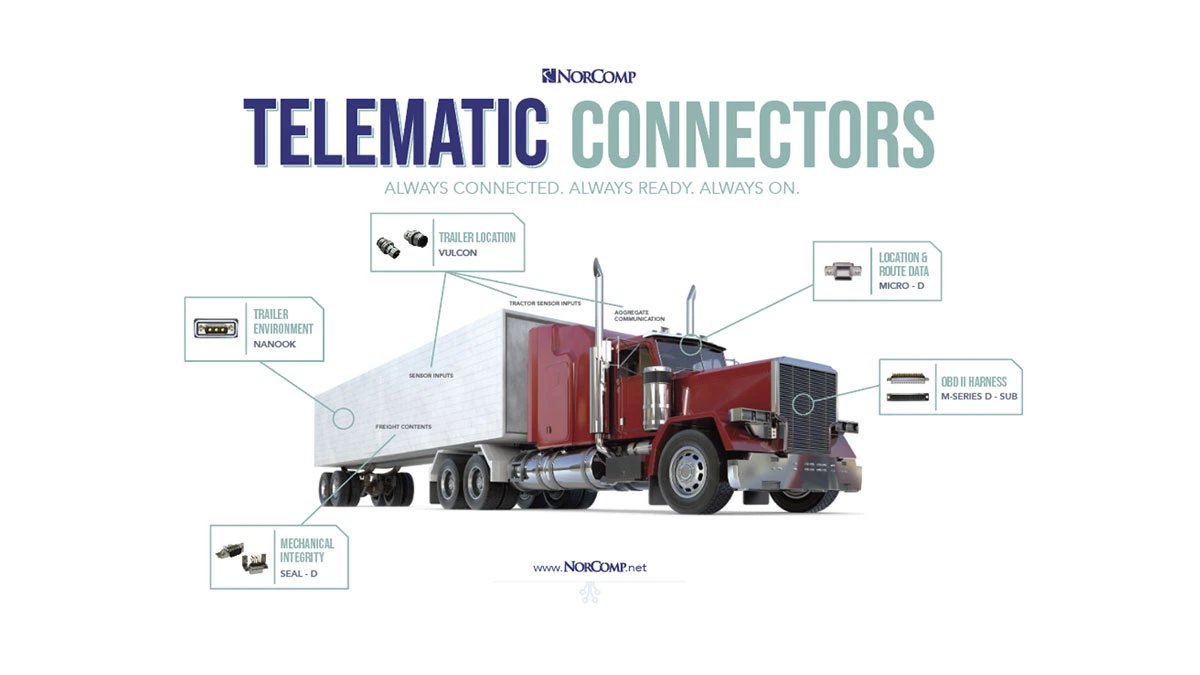 Telematics systems are one of the primary aggregators of vehicle data, including GPS, vehicle diagnostics, operational data (speed, heading, etc.), safety systems data, and many other features into a single system.
Companies in the automotive and freight sector rely on telematics systems to gather and transmit this information back to the cloud for further analysis. Overall, these systems enable important tasks like route planning and predictive maintenance, and they will help pave the way for greater autonomy and connectivity in self-driving vehicles.
When you're planning a new design for a telematics system, the board and enclosure design will come together when it's time to select connectors. There are several options for telematics connectors, depending on whether data or power are needed at the system interface. Very rugged systems will place multiple requirements on the board and connectors, specifically when environmental conditions are considered. In this article, we'll outline some of the important considerations in rugged telematics systems design and how connectors play an important role in determining reliability.
What's in a Telematics System
All telematics connectors share some similar electrical and mechanical characteristics. These connectors interface with the vehicle through its onboard diagnostics (OBDII) port or a CAN-BUS port. Modern telematics systems will include a cellular modem, although some newer telematics systems include Bluetooth and WiFi to enable data access through a smartphone app or WLAN.
Companies are using these systems to quickly gather and transmit vehicle data to a centralized repository, where it can be used for tasks like predictive maintenance and driver safety analysis. Although normally discussed in terms of automotive or freight, some telematics systems are also deployed in aircraft.
Inside a telematics system, there will be a PCB with multiple connectors to provide data and power connections to the internal systems within a vehicle. Connectors may be board mounted or chassis mounted and will connect to the PCB with a short cable. The connectors form an interface with the external environment, so rugged telematics connectors may be needed if environmental exposure poses a danger to system operation.
Rugged Telematics Connectors
With the exception of the OBDII port connector, the connectors used to interface with a telematics system are not standardized. Depending on where a telematics system is deployed, it may need additional data and power connectors to interface with the vehicle. Exposure to certain regions of the vehicle or deployment in harsh environments places some important design requirements on rugged telematics connectors.
When selecting a connector for a rugged telematics system, both for aerospace and automotive, consider these specifications:
Resistance to moisture or contaminant ingress; look for connectors that meet IP67/IP68 requirements
Mechanical ratings, specifically shock/vibration resistance and mating cycle rating
Power handling, specifically current/voltage ratings for power cable connectors
Retention and keying mechanism, as well as the pulling force rating
Operating temperature range or thermal cycling/shock limitations
Resistance to Corrosion, consider using Vulcon stainless steel connectors if this is required
For most electrical systems, the typical set of considerations is pin count and footprint, as well as possibly some signal integrity metrics in high speed digital systems. Rugged telematics systems put the mechanical and environmental factors first to ensure system reliability.
Rugged Connector Options
Although the classification of "rugged" as applied to connectors might imply a specialized connector with non-standard mating/pinout configuration, many standard connector styles are available in ruggedized versions. This includes standard connector styles for data like D-sub connectors or circular connectors (M5/M8/M12).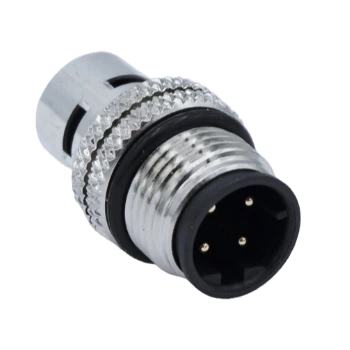 Push-Pull Connectors - These connectors use an internal latching mechanism that is only released by squeezing the connector body. This helps prevent accidental disconnects. These connectors are typically used for signal connections, although they could also be used for power if needed. These robust rugged connectors also have the ability to withstand high shocks and vibrations.

D-sub connectors - These standard connectors come with fixed pinout that is normally used to carry data over standard interfaces. However, custom pinouts may be used that are connected back to a PCB through a pin header or solderable contacts on the surface layer. D-sub connectors can mount to the chassis, or they can mount directly to a PCB as through-hole components.

Combination D-sub data/power connectors - These connectors use a D-sub form factor that combines power and data connections into a single assembly. This is better for smaller telematics systems that may not have room for a large number of more rugged push-pull connectors.

Circular connectors - These chassis mount connectors can be used to interface with M5/M8/M12 cables for sensor connections. The screw retention mechanism provides a high level of mechanical strength and reliability. These connectors can comply with IP67/IP68 waterproofing requirements and provide wide operating temperature range.
Most ruggedized connector options that will be deployed in a vehicle will be built from stainless steel, although hard plastic versions are available if high temperature or mechanical shocks are not a danger. Automotive and aerospace telematics connectors are also customizable, including customizable housing/backshells for D-sub connectors that carry data, or for combination data/power connectors mentioned above. Custom connector housings will also need a rugged custom cable assembly that can connect back to an interior wiring harness in the vehicle.
When you need connectors for rugged telematics systems that can withstand demanding environments, look to NorComp for standardized or customizable interconnect solutions. NorComp's product lines are Rugged Environment Certified (REC) and are ideal for use in robotics, military, industrial equipment, and other demanding applications. Contact NorComp today to learn more about our standard ro custom interconnect solutions.
---
Go Back