​How to Select a D-Sub Hood for Your Application
Choosing the CORRECT D-Sub Hood
Whether you're an electronic product designer, electrical or mechanical engineer, purchasing manager, or involved in the supply chain of interconnect and I/O connectors, choosing the right D-Sub Hood for your application is vital.
There are a huge number of options and combinations for a D-Sub Hood, and it's important to find the right version for your application. This guide covers everything you need to know to help you select the perfect D-Sub Hood, based on your answers to a few simple questions.
What is the Right Material for Your D-Sub HOOD?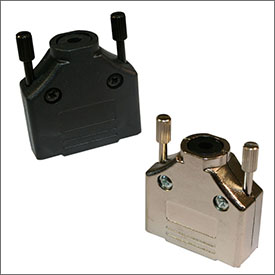 When it comes to choosing materials, you have a few different choices:
The material you choose will likely depend on the demands of the application. While plastic D-Sub Hoods are less expensive, they're not nearly as durable or resistant to harsh environments as the die cast metal options. For cables that are likely to have numerous mating cycles or exposure to excessive noise in demanding appliacations, you're better off with a more resilient material like metalized plastic or die cast metal.
If your application is just going to be static and not regularly disconnected, a plastic shell will probably do the job. One advantage of the colored plastic shells is the ability to design cabling based around color-coding and sockets to make installation easier.
What Degree Do You Want Cable Entry or Exit to be for the D-Sub Hood?
Think about how the cable and socket will be used in the field application and how much clearance there is likely to be directly behind the socket. Typical clearance space, combined with the flexibility of the cable, will help you determine the optimum cable entry or exit angle.
More acute angles are better for application where there's not much clearance behind the connection for cable entry/exit.
Options for cable entry or exit angle are: 180° (Straight), 90°, 60°, 45°, 40°, or 35°.
What Mounting Attachment Will You Use to Attach the D-Sub Hood?
Due to their importance in protecting connectivity and signal transfer, it's essential that D-Sub Hoods be fixed and stable once installed. There's plenty of choices when it comes to the right mounting hardware including:
Standard Mounting Hardware
#4-40 Mating Screws.
#4-40 Thumbscrews.
Mechanical Strain Relief.
Compression Strain Relief.
Additional Mounting Hardware (available separately)
M2.5 Screws.
M2.6 Screws.
M3 Screws.
Slide Locks.
Quick Lock Posts.
Grommets.
Your choice of mounting hardware will likely rely on the socket configuration you're going to be connecting to. Wherever possible we recommend standardizing mounting hardware and sockets across your product range to make interchangeability, connect / disconnect, and support more efficient.
In most cases the standard mounting hardware will be sufficient for the task. We also recommend mechanical or compression strain relief if the cable, socket, or other parts of the wiring system are likely to be in motion or have strain placed on them. Mechanical strain relief hardware requires a tool to assemble, while compressive strain relief does not.
Do You Have Any Special Requirements for Your D-Sub Hood Hardware?
Finally, you'll need to establish if you have any special requirements such as:
Handling high loads, currents, and voltages.
Dealing with coaxial contacts or other specialist wiring.
Especially delicate wiring necessitating maximum strain protection.
Any other special circumstances.
Quick Reference Guide for D-Sub Hood Options
Once you've decided on the D-Sub Hood for your application, consult our guide below to see which series is best for you: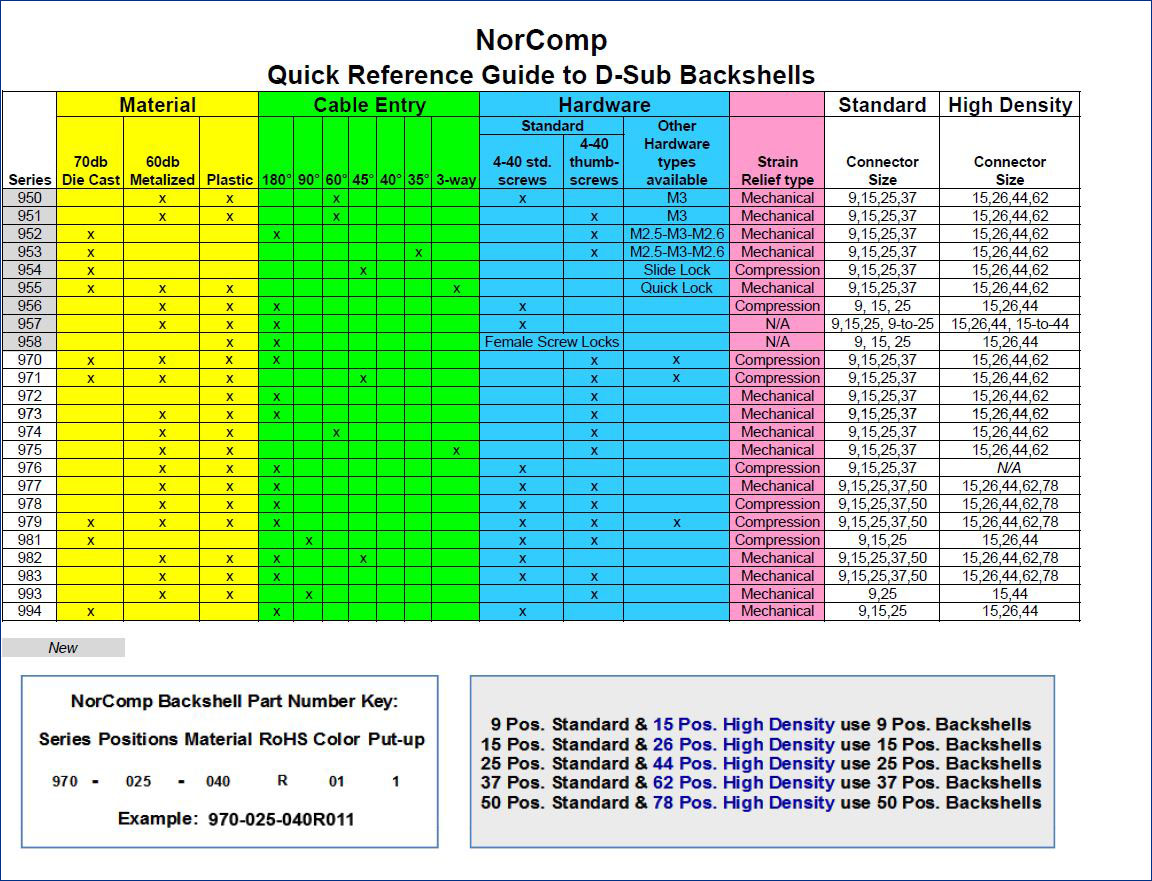 About NorComp's D-Sub Hoods / D-Sub Backshells
NorComp's D-Sub Hoods are designed to maximize Electromagnetic Interference (EMI) shielding, protecting your delicate electronic operations from interference from radio frequencies and nearby devices. Built for optimal connectivity and performance, our comprehensive D-Sub Hood products feature a variety of options to improve system stability while maximizing cable strain relief and preventing damage to wires and contacts. Visit us here for our more information on the ARMOR d-sub hood product offering.
Whatever you need, NorComp can help. Contact us today to find out how we can meet all your connector manufacturing needs.
---
Go Back