Which Harsh Environments Might Need IP-Rated Connectors?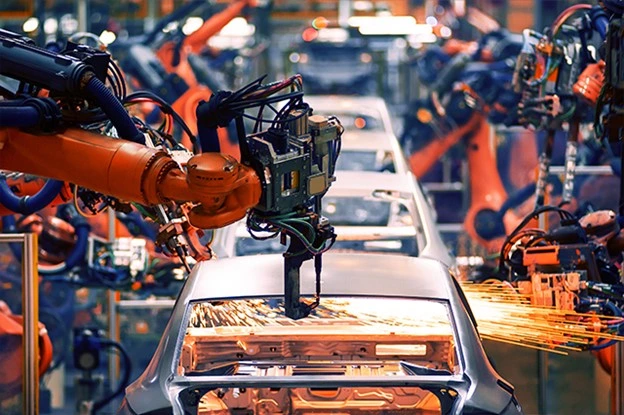 Harsh environment pose a range of challenges for any electronic device. One point of risk is easy to anticipate and can be addressed with the right components: your electronic connectors. Even in a totally sealed enclosure, connectors provide an opportunity for contaminants to infiltrate an assembly, and potentially damage components. The right type of connector is important as well; the material and mechanical properties used in connectors assemblies can protect a device from other factors encountered in harsh environments.
Certain harsh environments will require a connector that passes a certain ingress protection rating to ensure reliability. These connectors might be standardized for specific interfaces or pinouts, or they could enable customizable pin configuration for maximum flexibility. If you're designing a system that might be exposed to liquid or solid contaminants, understanding IP-rated connector specifications and how to select these connectors for your design is key.
About Ingress Protection (IP) Ratings
Any electronic or electromechanical system could be vulnerable to contaminants, such as dust or moisture. Ingress protection (IP) ratings are used to classify the extent to which a fixture is sealed against intrusion of these and other contaminants. The rating uses a two-tier scale to quantify intrusion prevention and moisture prevention, which then produces an overall rating for the product. The rating is often used to describe electronic component enclosures or full assemblies, but it also applies to mechanical casings.
IP ratings are standardized in IEC-60529 and are read using a two-digit code (such as IP65). The IP rating can be decoded as follows:
IP[Solid debris rating][Moisture rating]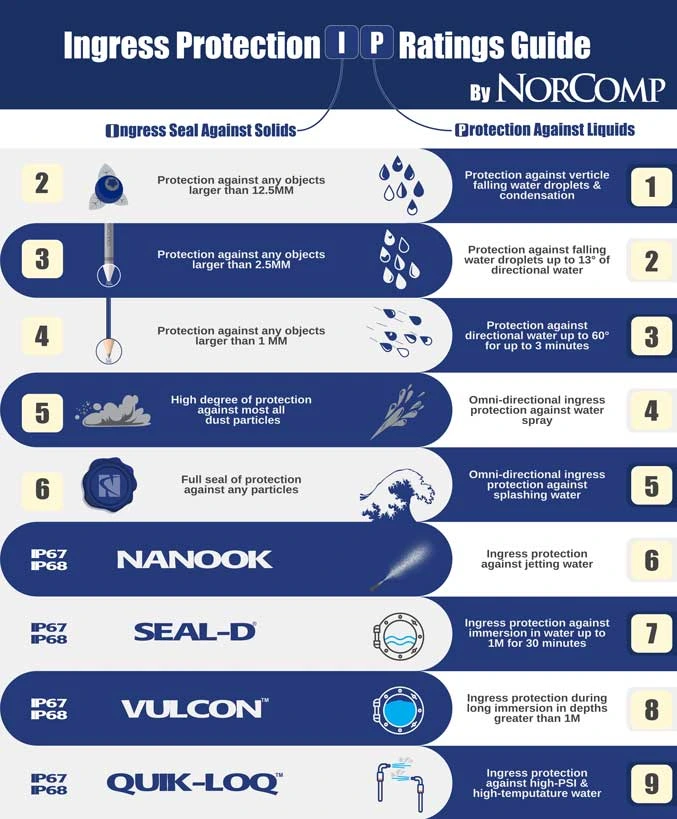 In general, larger numbers in the code reflect greater protection against solid debris and liquid contaminants. The graphic below summarizes the broad operating environments for IP-rated products.
For electrical connectors, the connector housing, insulator, contact style, and materials all work together to determine the IP rating of the component. The designer's responsibility is to determine the IP rating required for a particular deployment environment.
Matching IP-Rated Connectors to Harsh Environments
When choosing an IP-rated connector, the first place to start is to consider the worst case exposure to solid or liquid contaminants that could infiltrate the connector housing. Some environments will present other factors to be considered in the connector design, depending on the substances the system will encounter.
Here are a few environments where IP-rated connectors are often needed:
Marine Environments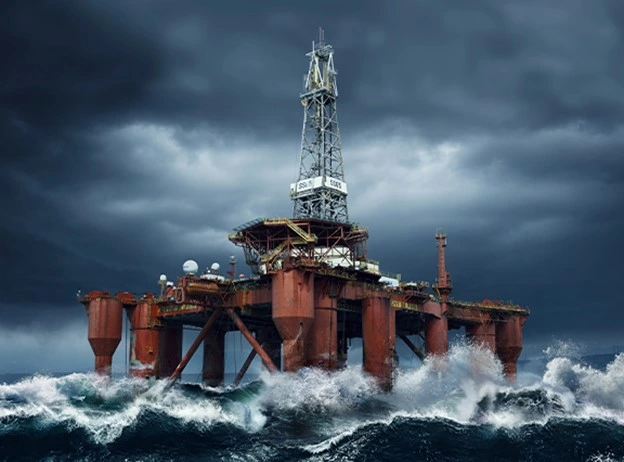 Electronic connectors deployed outdoors on watercraft will require, at minimum IP64 ratings to ensure they can withstand splashing without ingress of moisture. A better option is to use IP67 rated connectors to ensure the device can withstand submersion in shallow water. Very rugged marine electronics will need IP68 rated connectors to ensure the device can be retrieved from deeper water without ingress.
Industrial Equipment
Depending on the type of equipment being used in an industrial environment, IP65 or higher rated connectors will be needed. This is because these connectors may need to withstand jets of water at various pressures, but they may not be so likely to be submerged in every industrial environment.
These connectors will also have the highest dust protection, something which is essential in many manufacturing settings.
Military Equipment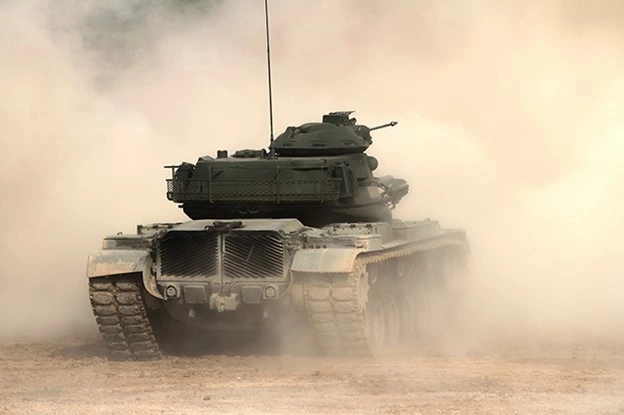 Electronics in military systems have among the highest qualification and operational standards. Any military equipment deployed in the field will need to have the highest possible reliability, which requires waterproofing and ability to withstand dust ingress.
IP67-rated standardized connectors are available that can carry signal and power in a single cable assembly, and these options are backward compatible with legacy equipment that might normally use unsealed connectors.
Outdoor Consumer Electronics
Most applications where a device will be deployed outside setting should comply with IP65 requirements. Two common examples are lighting and security systems. Products deployed outdoors will have the highest reliability with an IP66 or IP67 rated connector.
These connectors come in standard form factors and pinouts, as well as in a variety of housing material and insulator material options. The wide range of options available for most connector styles allows you to pick the perfect connector that will satisfy multiple environmental and operating requirements.
Should You Use a Custom Connector?
Because IP-rated connectors receive their IP rating based on moisture and solid debris ingress, the connector you need might not perfectly match the environment where your design will be deployed. It's also possible that standardized IP-rated connector housings and pinouts might not meet your particular electrical needs. In the event a standard connector option doesn't meet your environmental or form factor specifications, you can always opt for a custom connector and cable assembly.
Rugged connector manufacturers can customize a solution that targets a specific IP rating, typically IP66 or IP67. It's also possible to design connector assemblies to higher IP ratings when you work with the right custom connector manufacturer. Going with a custom connector housing also allows you to choose materials that may be ideal for specific applications where corrosion is a concern, such as hard plastic or stainless steel connectors.
When you need IP-rated connectors for power, data, or custom interfaces, look to NorComp for standardized or customizable interconnect solutions that are designed for harsh environments. NorComp's product lines are Rugged Environment Certified (REC) and are ideal for use in robotics, military, industrial equipment, and other demanding applications. Contact NorComp today to learn more about our standard or custom interconnect solutions.
---
Go Back