Table of Contents:
IP Ratings and Harsh Environment Connectors

Applications such as rail transportation, oil and gas, telematics, marine, electric power, and data logging [MK1] impose severe operating stresses on equipment and are classified as harsh environment applications. Stresses may include one or more of the following: extreme hot or cold temperatures; shock and vibration; corrosion; dust or moisture intrusion, and more.
Ingress Protection (IP) ratings are industry-standard classifications that signify the level of protection against solids and liquids. A connector for a harsh environment application must have the appropriate IP rating.
This pillar page will outline the characteristics that define a harsh environment and will then review the IP rating categories. It will discuss the features of connectors designed to operate in harsh environments, and the NorComp connector families recommended for such use. Finally, the pillar page will include a list of useful resources for engineers faced with a harsh environment application.
What is a Harsh Environment?
A harsh environment features a wide variety of conditions that can spell doom for poorly designed connector systems. Climate-related stresses can include extreme hot and cold temperatures, temperature cycling, dust, humidity, and moisture including salt spray. Application-related stresses can include all of the above, plus vibration, shock, high pressure, corrosive chemicals, and a range of electrical stresses.
Let's look at some of these stresses in more detail and their effects on connectors.
Temperature extremes - The majority of environmentally-caused failures are due to excessive temperature or temperature cycling. Most are a result of thermal stress brought on by differences in the coefficients of thermal expansion (CTE) of different materials. Temperature extremes also affect a connector's mechanical components. Rubber seals and plastics tend to harden and resist deformation, causing leaks or cracks. Designs must often operate reliably in both hot and cold environments. A data logger, for example, must operate reliably in environments from winters in northern Canada to summers in Death Valley.
Shock & vibration are common features of many harsh environments. They can cause mechanical stress in electronic components including connectors. Common results include cracks in solder joints, loosening of screws and other fasteners, and metal fatigue. Connectors in transportation or industrial machinery are continuously subject to these mechanical stresses.
Explosion risk is a concern in many situations. Oil & gas, coal mining, and sawmills are environments where flammable materials - gases, vapor, dust, or powder - are commonly encountered. In such conditions, any spark caused by the making or breaking of a contact – by unplugging a connector, for example - may cause a catastrophic explosion.
Rough handling - Many connectors, especially those on portable equipment, are connected and disconnected multiple times in a day, often hurriedly, which increases the risk of wear and tear on the connector. Connectors being dropped or dragged along hard surfaces can damage internal components and can affect the integrity of power or data signals.
Corrosion caused by exposure to chemicals is an everyday occurrence in harsh environments. The most common combination is high relative humidity coupled with salt fog, which can wreak havoc with electronic components and connectors. Common industrial chemicals can also cause corrosion. Examples include both acids – for example sulfuric, chromic, acetic, hydrochloric, or hydrofluoric acid - and bases such as ammonium, potassium, or sodium hydroxides.
Different harsh environments experience a range of hazards, as shown in the following table.
| | | | | | | |
| --- | --- | --- | --- | --- | --- | --- |
| Application | Temperature | Shock/ Vibration | Corrosion | Explosion | Liquids | Dust |
| Telematics | X | X | X | | X | X |
| Industrial | X | X | X | X | X | X |
| Oil & Gas | X | X | X | X | X | X |
| Marine/Undersea | X | X | X | | X | |
| Automotive | X | X | X | | X | X |


All About IP Ratings
Many specifications on a data sheet indicate a connector's suitability for harsh environment applications. Its IP (ingress protection) rating is one such specification.
The IP rating is defined by IEC standard 60529; the standard rates the resistance of enclosures, including connectors, against the intrusion of dust and liquids. The corresponding European Union (EU) standard is EN 60529.
The standard provides users specific information about a connector's performance. An IP rating has 2 digits after the IP, e.g. "IP68". The first digit refers to protection against intrusion from solids and the second digit refers to protection against intrusion from liquids.
Solid intrusion ratings range from 0 (no protection against intrusion) to 6 (complete protection against dust ingress). Liquid intrusion ratings range from 0 (no protection against intrusion) to 8 (protection against long-term immersion to a specific pressure). There is also a level IP69K that signifies protection against steam-jet cleaning.
Each of the solid and liquid levels has a specific level of protection. The table below summarizes these levels for solids and liquids respectively.
| | |
| --- | --- |
| IP Rating (first digit: solids) | Level of Protection |
| IP0x | No protection |
| IP1x | Protected against solid foreign objects of 50 mm diameter and greater |
| IP2x | Protected against solid foreign objects of 12.5 mm diameter and greater |
| IP3x | Protected against solid foreign objects of 2.5 mm diameter and greater |
| IP4x | Protected against solid foreign objects of 1.0 mm diameter and greater |
| IP5x | Dust-protected |
| IP6x | Dust-tight |
| | |
| --- | --- |
| IP Rating (second digit: liquids) | Level of Protection |
| IPx0 | No protection |
| IPx1 | Protected against vertically-falling water drops |
| IPx2 | Protected against vertically-falling water drops with connector tilted up to 15° |
| IPx3 | Protected against spraying water |
| IPx4 | Protected against splashing water |
| IPx5 | Protected against water jets |
| IPx6 | Protected against powerful water jets |
| IPx7 | Protected against the effects of temporary immersion in water |
| IPx8 | Protected against the effects of continuous immersion in water |
| IPx9 | Protected against high-temperature, high-pressure water jets |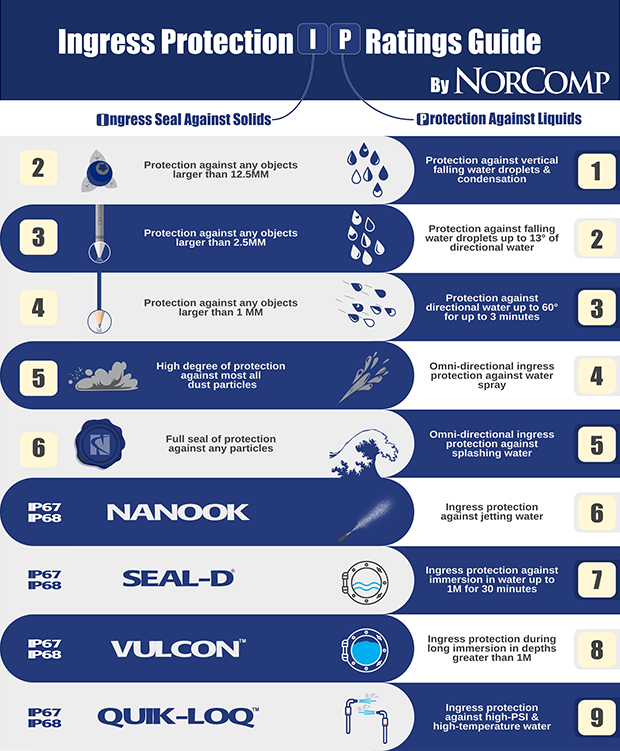 The IEC 60529 standard has a specified test for each level. For example, an independent laboratory has tested VULCON™ M5, M8, and M12 connectors to the relevant IEC 60529 testing for the IPx8 specification. The test involved submerging the units in 3 meters of water for a duration of 2 hours. All units passed the test. The results are available on the NorComp web site.
Connectors for Harsh Environment Applications
Connectors play a key role routing signals and power between almost all electronic systems; they provide the interface between a piece of equipment and other modules or sensors. A connector often provides connectivity between two modules, and so it is often mounted on the case of an electronic unit.
Such a connector must maintain the integrity of case design to protect the internal components from the intrusion of liquids and dust. As we've seen, this capability is characterized by the IP rating; the IP rating, though, does not measure other common features of a harsh environment, such as mechanical shock and vibration, the presence of corrosive materials, or extreme temperatures.
Several key design features provide an industrial connector with protection from environmental stresses.
Locking/coupling mechanisms. A robust coupling mechanism is a must for a connector to maintain connectivity in all conditions, especially in the presences of vibration and shock.
Housing and insulation. For applications where the connector is likely to be exposed to extremes of temperature, moisture, and dust, a corrosion-resistant metal housing may be the most appropriate option. For other industrial uses that require lightweight and flexible connectors, high-temperature resistant plastic composites may be more attractive.
The shape of the connector, thread pattern or mating mechanism and positioning of pins also play an important role in the creation of a rugged and reliable connector. Circular connectors allow for easier connection and disconnection. They are also easier to seal and less likely to wear or break.
EMI performance. Many harsh environments include high levels of electromatic interferences (EMI). Industrial machines, for example, must operate close to devices such as welders, electric furnaces, and high-power motors that generate high levels of voltage and current. Other types of equipment, such as switching power supplies, employ high-frequency switching pulses that can couple into nearby equipment and disrupt its operation. Connectors with 360° EMI shielding are preferred in such cases; examples include metal-shell push-pull connectors or D-sub connectors with metallized backshells. Both types are discussed below.
Applicable Connector Types
Connector products for harsh environments are engineered with highly reliable contact technologies that maximize operating efficiency and manufacturing uptime.
NorComp offers both standard and custom solutions for these applications.
Recommended Connectors: Standard Products
NorComp offers several families of IP-rated connectors that are recommended for harsh environment applications. These are:


Vulcon™ Metric Circular Connectors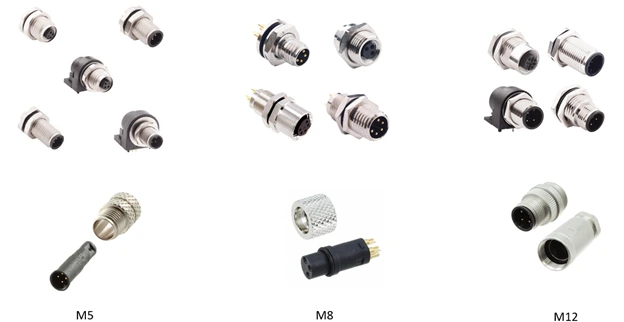 The VULCON™ connector family conforms to the long-established industry-standard form factor for circular connectors with a screw fitting. The VULCON™ M-series connectors are rated to IP67/IP68 requirements.
The VULCON™ M12 circular connector has become a leader in harsh environments in industry; applications include automation, remote process sensors, robotics control systems, ruggedized networking, & power conditioning systems.
The VULCON™ M8 circular connector is a smaller more compact version of the M12. M8 connectors are used in applications requiring a rugged and robust fully shielded metal shell able to withstand shock and high vibration. M8 harsh environment applications include ruggedized data loggers & sensors, electronic gauges & metering, avionics, and marine electronics.
VULCON™ M5 connectors are recommended for rugged applications that require the most compact connector solution. M5 connector applications for harsh environments include transportation and control systems, automated doors & ramps, and sensor connectivity.
Vulcon™ Steel Connectors add upgraded protection
NorComp has now extended the line of VULCON™ Circular Connectors to include VULCON™ STEEL - M12 Stainless Steel Circular Connectors. These upgraded M12 Connectors deliver a dependable long-term solution designed to offer protection and corrosion resistance for extreme environments. Applications include industrial machinery, medical, energy, drones, robotics, and food processing plants.
A full range of options is offered in Vulcon Steel connectors:
Available in pin counts ranging from 3 to 12 positions
IP67/68 Performance in both mated / unmated conditions
Solder Cup, Vertical, & Right-Angle Board Mount Options
Cable Mount in hybrid or stainless steel
Up to 5 Amp contact rating / -40° to +85°C
A, D, X, & L codes available
Available as loose piece or as pre-made M12 cables
316 Stainless Steel


QUIK-LOQ™ Push-Pull Connectors
QUIK-LOQ™ Circular Push-Pull Connector systems are rugged, sealed connectors ideal for high-reliability waterproof applications where quick connect / disconnect and environmental protection are required. Examples can be found in test & measurement, instrumentation, medical equipment, and telecommunications.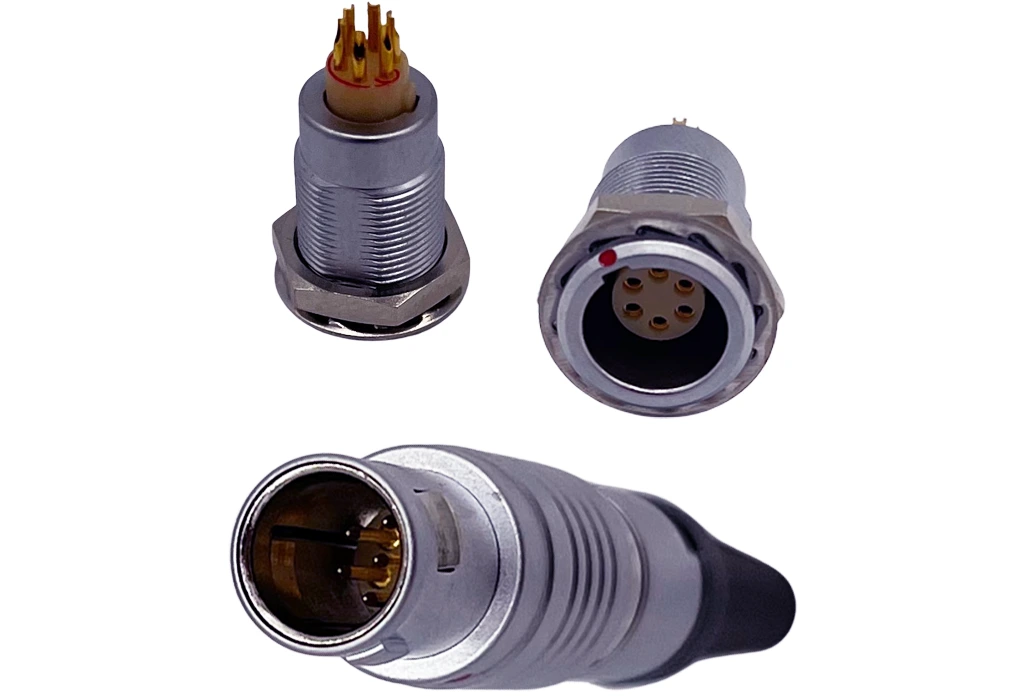 There are several families of QUIK-LOQ™ connectors. Metal shell connectors are available with both IP67/IP68 ratings for harsh environments and IP50 ratings for less demanding environments. Metal shell connectors feature 360° shielding for full EMI / RFI protection. Plastic shell connectors are also available.


IP-rated d-sub connectors
NorComp offers two families of d-sub connectors with IP ratings.

SEAL-D® connectors are designed for applications that require both the d-sub form factor plus IP67/IP68-rated protection from heavy spray or short-term submersion.
The SEAL-D® family are drop-in replacements for standard unsealed connectors; this eliminates the need to change PCB and sheet metal designs when upgrading to IP67 standards. They maintain the same footprint as the standard d-sub product offering but are sealed internally. NorComp's proprietary sealing technology allows any existing d-sub product to be manufactured in an IP67-rated version.
SEAL-D® connectors are available in vertical and right-angle board mount types as well as solder cup for panel mount cable applications.

NANOOK flanged waterproof d-sub connectors provide robust IP67-rated performance in standard, high-density, and mixed layout configurations.
Examples of harsh environment applications for both connector families include:
Industrial robots and machines that are routinely subject to wash down
Gas, electric and water metering systems with embedded Smart Grid electronics
Commercial or consumer marine electronics – radios, scanners, radar, etc.
Remote sensors, gauges, and data loggers that are exposed to the elements


Choosing between NANOOK and SEAL-D for your IP-rated d-sub application
NANOOK and SEAL-D are both d-sub connectors, but there are subtle difference in specifications. The SEAL-D® connector uses the same footprints as standard d-sub products and emphasizes flexibility; it uses a modular design with separate seals and hardware. The NANOOK connector employs a larger footprint than standard. It focuses on ease of installation; it is a turn-key solution that includes all seals and hardware.
The following table summarizes the two feature sets.
| | | |
| --- | --- | --- |
| Feature | SEAL-D® | NANOOK |
| IP Rating | IP67/IP68 | IP67 |
| Shell Size | E / A / B | E / A / B / C |
| Standard density contacts | 9/15/25 | 9/15/25/37 |
| High density contacts | 15/26/44 | 15/26/44/62 |
| Combo-D variations | 11 | 18 |
| Operating Temperature | -55° to +105°C | -25° to +85°C |
| Mount Options | Cable Mount, Vertical Solder, Right-Angle Solder Board | Solder Cup, Vertical Solder, & Right-Angle Solder Board |


D-Sub backshells provide improved protection and EMI/RF shielding



There is a comprehensive selection of d-sub backshells designed to address several of the harsh environment factors discussed above.
ARMOR D-Sub hoods are designed for rugged / robust applications including military, industrial, and aerospace.
For situations where EMI is a concern, diecast D-sub backshells are plated with high quality nickel and undercoated with copper to provide excellent EMI/RFI shielding.
For high-levels of vibration and shock, a variety of products include options that improve connection stability while maximizing cable strain relief to prevent damage to wires and contacts .
The 967 series backshells provide IP67 rated protection with the help of SEAL-D® technology.
A wide range of d-sub hood systems is available, including Die-Cast, Metalized Plastic & Plastic versions. A backshell selection guide details the various options.


Power D SEAL-D® connectors
Power D SEAL-D® connectors are designed for industrial, robotics, and other harsh environment applications where both power & signal are required from a single connection. These connectors can carry both signal (5 amp) and power (20 / 40 amp) contacts within the same connector body. Featuring "Solid-Pin" machined contacts, these connectors offer high reliability performance for the most challenging design applications.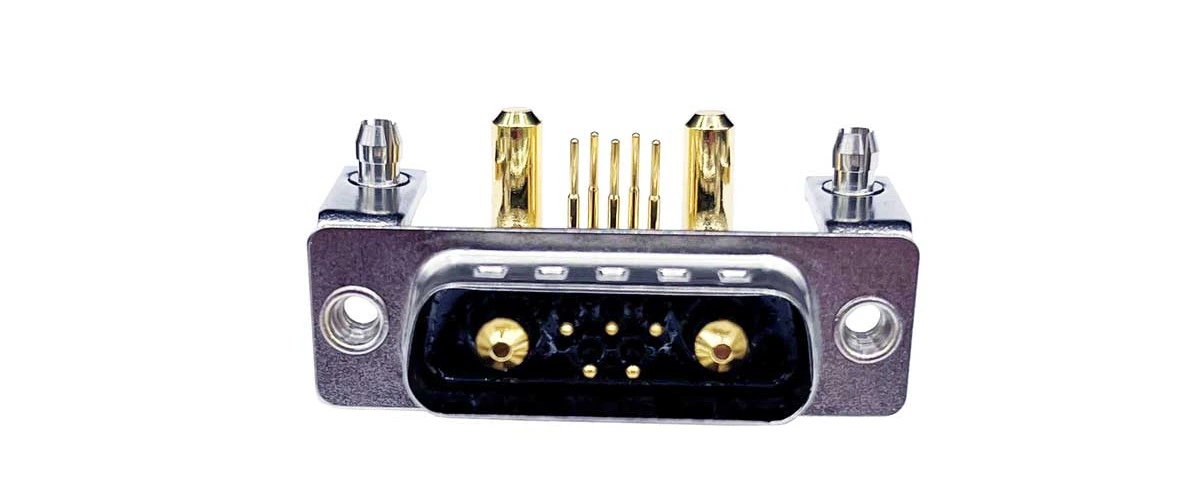 The product range is IP67-rated, making it ideal for a multitude of applications such as commercial drones and marine electronics. This diverse combo d-sub product offering includes up to 12 industry-standard contact configurations.
Custom or semi-custom Combo-D connector solutions are also available; these are suitable for applications with unique combinations of signal and power pins, such as robotic work cells.
Summary of Harsh Environment Features
We've summarized some of the feature of the connectors discussed above that are relevant to operation in harsh environments.
IP ratings
| | |
| --- | --- |
| Connector Family | IP Rating |
| | IP67/IP68 |
| | IP67/IP68 |
| | IP67/IP68 |
| | IP67 |
| | IP67 |


Temperature ratings for IP-rated connectors
Excessive temperatures are a leading cause of stress in harsh environment applications. The table below compares the operating temperature ranges of the connectors discussed above.
| | | |
| --- | --- | --- |
| Connector Family | Connector type | Temperature range |
| | M-series circular connector | -40° to +85°C |
| | d-sub IP67 connector | -25° to +85°C |
| | push-pull connector, plastic shell | -20 ° to + 120 ° C |
| | push-pull connector, metal shell | -40 C to +200 C |
| | d-sub IP67 connector | -55 ° to + 105 °C |


Resources
The NorComp website has several resources for those wishing to learn more about the various types of connectors recommended for outdoor sensor applications. Resources include:
Rugged Environment Certified connectors
Transportation industry connectors
Environmental Compliance statements
White Papers: Custom project success stories
Click on the links or contact us for more information.
WORK WITH NORCOMP ON YOUR NEXT IP Ratings and Harsh Environment Connectors PROJECT
Contact us
---